Darshan Singh Sangha also known as Darshan Singh Canadian was honoured August 15, 2023 by Dr. Hari Sharma Foundation and the BC Labour Heritage Centre for his contribution to the trade union movement in British Columbia and the South Asian community's struggle to win the right to vote in a ceremony held at Lake Cowichan, British Columbia. During the ceremony, a plaque was unveiled in his honour.
Harinder Mahil, Foundation's Secretary, took part in the ceremony held at the Kaatza Station Museum. A number of politicians, labour and community leaders and members of the Darshan Singh's family participated in the ceremony at Kaatza Station Museum. David Ebby, Premier of British Columbia, sent a message to those attending the ceremony to honour Darshan Singh Sangha.
Those who spoke during the ceremony included Raj Chouhan, Speaker of the BC Legislative Assembly; Bruce Ralston, BC Minister of Forests; Hermender Singh Kailley, Secretary-Treasurer of the BC Federation of Labour; Harinder Mahil, Secretary of the Foundation; representatives of the United Steelworkers and Donna Sacuta, Executive Director of the BC Labour Heritage Centre.
Sadhu Binning and Sukhwant Hundal wrote an excellent piece on Darshan Singh's time in British Columbia which was distributed to all attendees. Darshan Singh was an extremely effective speaker who persuaded South Asian workers to join the International Woodworkers of America (IWA) to improve their wages and working conditions.
He was one of the first labour leaders in British Columbia that publicly spoke against racism and discrimination. The IWA would not have been what it became if it was not for the efforts of Darshan Singh Canadian and his colleagues. His activism forever changed B.C.'s labour movement by showing that racial discrimination divides workers and serves the interests of employers.
During the time he was in Canada, Darshan Singh was involved in three major struggles:
To unionize Indo-Canadian workers in the International Woodworkers of America (IWA). This was a time when a union organizer could be arrested for his or her union activism. British Columbia's history is full of examples where union leaders were arrested and harassed simply because they were trying to unionize workers.
He was also involved in the struggle of the Indian community in B.C. to regain the right to vote. That right had been taken away in 1907 for discriminatory reasons.
He was involved in India's struggle to gain independence from the British.
When he came to Canada, he was a 19-year-old young man who came from a poor farming family as a student. He went back in 1947 and played an important role in India's democratic process. He became a popular leader in the Communist Party of India and was elected as an MLA in Punjab at least three times.
In 1930's and 40's, those who came from India were referred to as East Indians or Hindus. Their population in Canada was very small and most of them were either farmers or retired soldiers from Punjab. Due to racial discrimination, they could only find work either on the farms or in the lumber industry.
In the mills, there were different rates of pay depending on the colour of workers' skin. South Asians and Chinese workers were paid significantly less than their white counterparts. They were the last ones to be hired and first ones to be fired. They were not allowed to operate any machinery or hold any skilled jobs. Darshan Singh fought against this discrimination and was able to persuade the IWA to do so as well.
Darshan Singh's work in the IWA was not just limited to organizing Indian workers. He was the recording secretary for the IWA's Victoria local and an officer of the Victoria district labour council.
In 1946, Darshan Singh attended the Canadian Labour Congress (CLC) convention in Toronto as an IWA delegate. He put forward a resolution for the unity of the Trade Union Movement in Canada. The fact that Darshan Singh put forward this resolution shows that he also contributed to the labour movement at the federal level and that his contribution was not limited to BC.
The unveiling of the plaque honouring Darshan Singh Sangha recorded important histories of the IWA, British Columbia's trade union movement and that of the Indo Canadian community.
The struggles for unionization and against racism that Darshan Singh was involved in continue to this date. We need more activists and leaders like Darshan Singh to make this world a better place for all of us.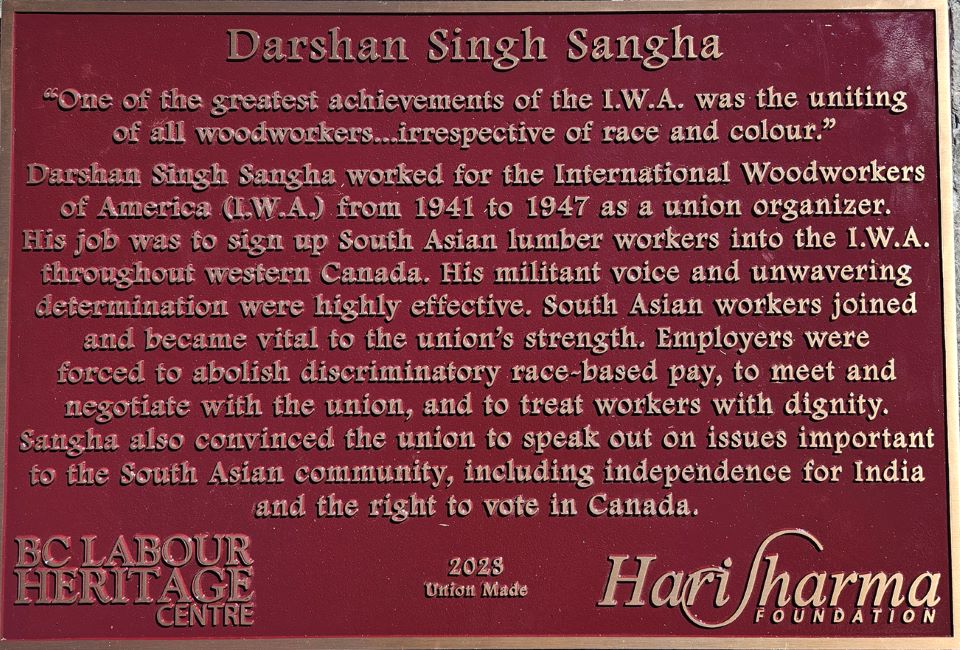 Darshan Singh Canadian Plaque unveiled August 15, 2023.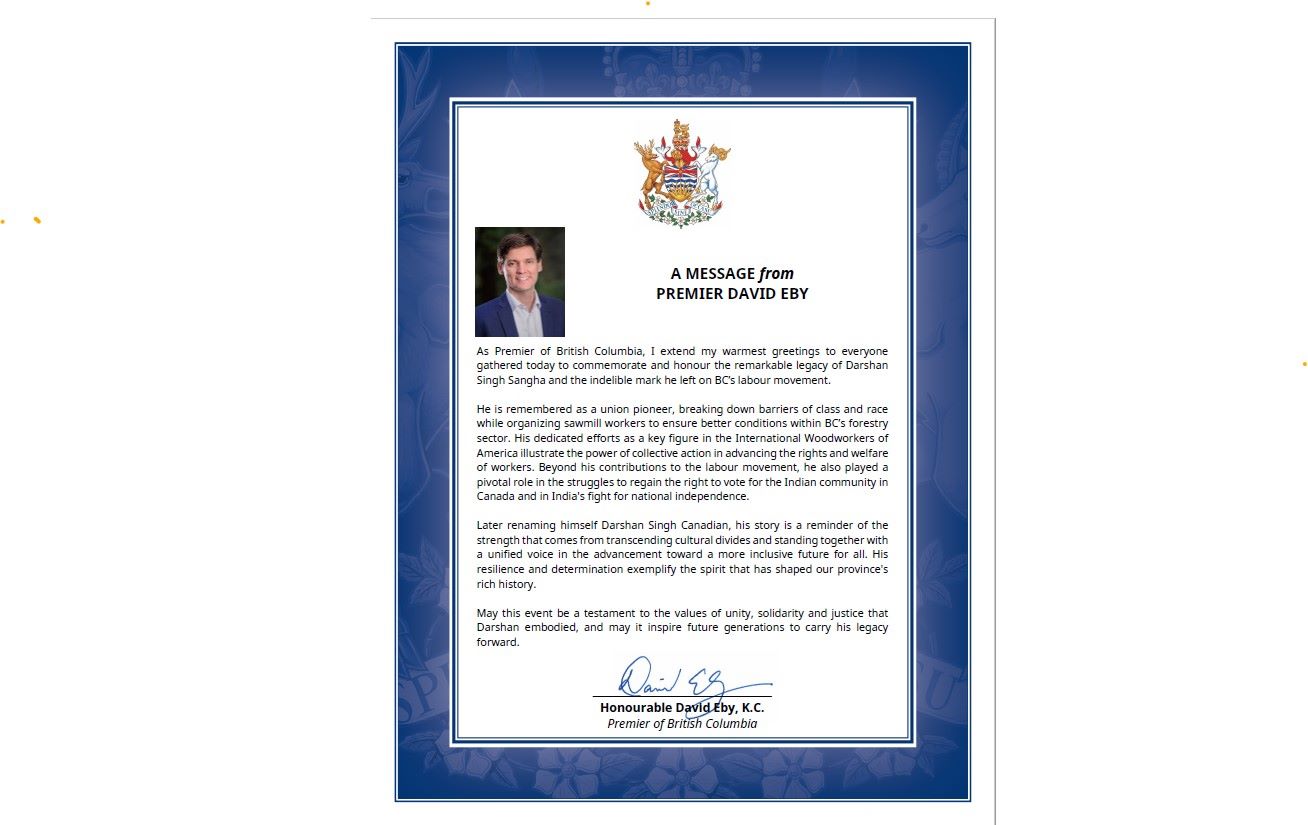 Premier David Eby's Message.